Industry & market expertise that identifies the best candidates for your positions.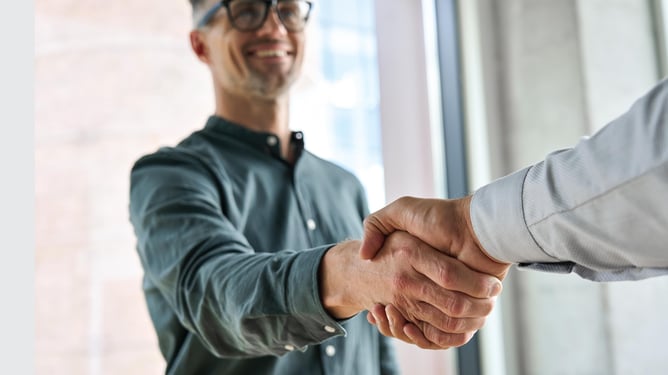 What are your project needs?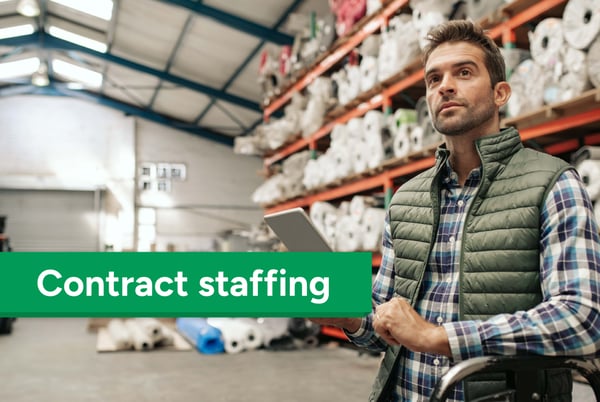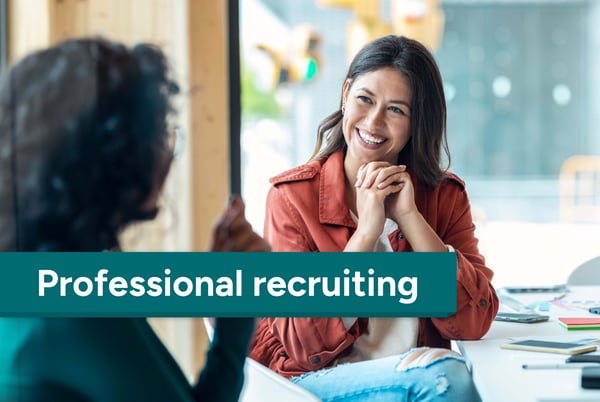 We find the talent for your project, large or small. Is outsourced contingent labor the best fit? Direct hire staffing? Temp-to-hire staffing? We'll help you secure the best workforce for your needs.
Sourced, screened and submitted, you simply select the best fit. From C-level executives, Quality technicians, HR professionals, Engineers, CNC machinists and more, we've got you covered.
Benefits of a talent partner

We streamline and customize the hiring process by only sending you a selection of pre-screened, vetted and qualified candidates.
Dedicated time & resources
Our dedicated departments focus solely on professional & skilled hourly recruiting, so you can hire right, the first time.


Give your HR managers the flexibility to focus on other department needs. We can handle the sourcing, applicant flow and candidate qualification for them.
We provide tenured, vertical focused recruiters whose industry and market knowledge lead to cost-effective recruiting.
Position yourself well to attract the talent you need
We can create comprehensive marketing plans as part of your retention strategy to get you the talent you need.
Our diverse team has expert knowledge in how to market your company and jobs to the right people in the right places. Some of the resources you'll have access to when you partner with HTI for your next hiring event include:
• Marketing specialists
• Seasoned recruiters
• Workforce consultants
• Graphic design & branding experts
• Human resource specialists
• The HTI Job Mobile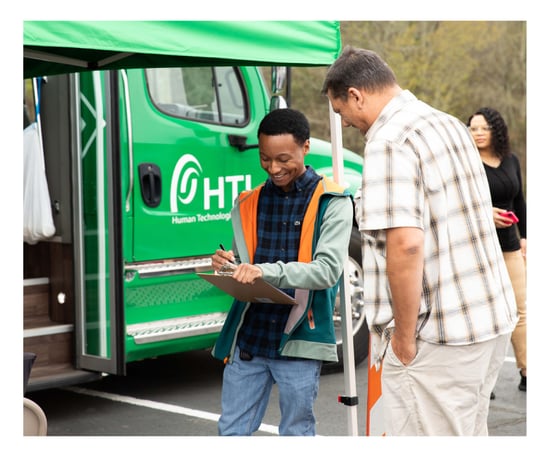 Indeed & Job Boards | Print & Digital Advertising | Billboards | Social Media | Radio
HTI can create a targeted marketing plan for your specific needs using a wide range of tools and techniques.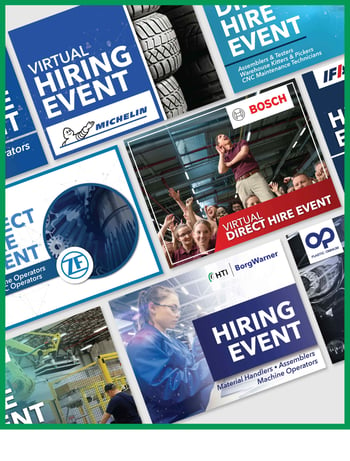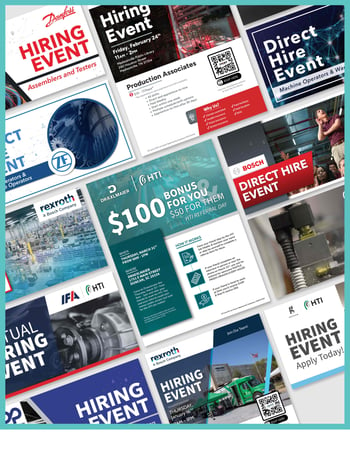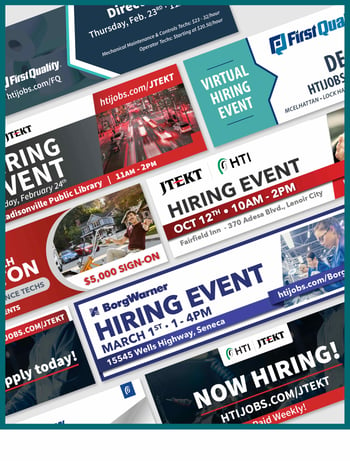 Job Postings - Event Postings - Quick Apply - Virtual Interviews
Social Media Ads - Flyers - Google My Business Event Post - Media Buying - HTI Website - SEO Optimization
Static and Digital Boards - Media Buying - Market Relationships & Contracts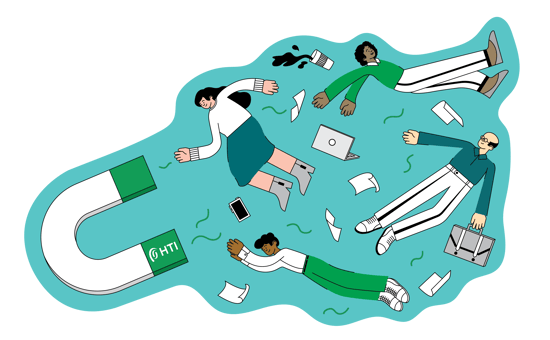 Is a comprehensive marketing plan a part of your retention strategy?
Before applying for a job, 82% of people consider the company's reputation and employer brand (CareerArc, 2021).
Even with a bigger paycheck, half of all candidates will turn down a job offer from a company with a bad reputation (Glassdoor, 2021).
86% of HR professionals are conclusive that recruitment is becoming more like marketing (Glassdoor, 2021).
Are you a talent magnet?
Bridging the gap between employers and job seekers.
Acting as a mobile version of one of our branch offices, The HTI Job Mobile extends our recruiting capabilities beyond our physical locations to make the job search more convenient for job-seekers as well as offers employers on-site candidate screening support.
Our mobile solution to recruiting was born in a quest to reach candidates that could not access their local employment branches or potential employers because of conflicting working hours and/or transportation limitations. Employers were missing out on qualified candidates, and job seekers were trapped in positions that didn't fit their personal needs.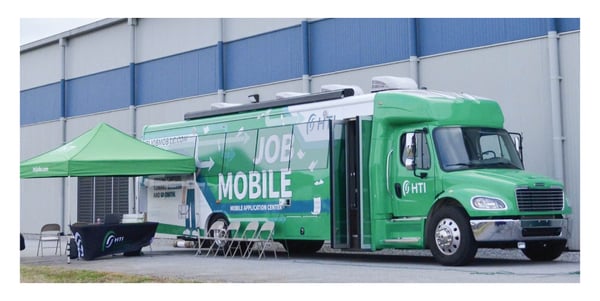 Job mobile features that drive home success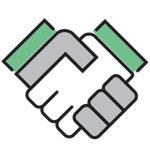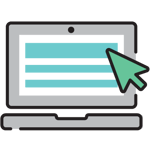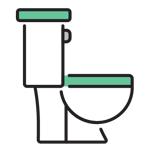 Onsite support
There are always HTI staff members available to welcome and assist job seekers during the application and hiring processes.
Application workstations
Equipped with 6 application workstations, applicants are able to submit a digital application for faster and more accurate screenings.
Interior restroom
This center has an interior restroom for on-site drug screening; just another way that we are streamlining the hiring process.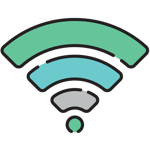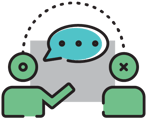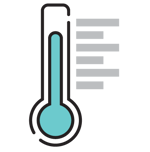 Wifi connectivity
WiFi connectivity gives applicants the ability to complete online applications, as well as go through orientation.
Private interview space
A private, instant-interview space is available for applicants that have successfully completed the application process.
Temperature controlled environment
Just like being in one of our branch offices, we want to make sure you are comfortable during your experience.
Post hiring event reports
After each hiring event, our recruiting experts share the reporting data with you. Our report walks you through budget breakdowns, community engagement, brand awareness, candidate interest and event turnout.
This transparency provides a strong understanding of the components driving home a successful hiring event – so we can respond quicker, target better and hire more.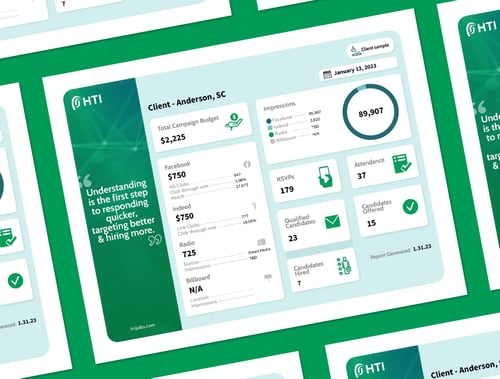 How are you positioning your company in the market? Are your job openings reaching the right people in the right places? There's a lot to unpack.