IFA Group is a rapidly growing Tier 1 automotive supplier of drive shafts. They were preparing for a ramp-up of a new product group and needed a larger workforce to keep up with demand. IFA reached out to HTI to establish a recruitment partnership, wherein HTI developed a strategy to stabilize their growing hourly needs. During the project, IFA's initial hiring needs doubled. As a flexible partner, we pivoted to a more robust recruitment plan.
Project goals
Reduce Operator turnover (14.5% per month at project start)
Grow facility headcount by nearly 150 new hires
Improve and streamline recruitment process
Our solution
HTI developed a structured road map to address IFA's current challenges. We recommended a focus in lowering dependency on contingent labor, creating pathways for experienced & non-experienced candidates, and centralizing recruiting efforts. Through this process, HTI identified opportunities for improving community perception via marketing efforts, constructing a steadier Operator conversion process, differentiating temp-to-hire & direct hire candidate criteria, increasing exempt and skilled-hourly recruitment efficiency, and creating capacity for the HR team.
Outsourced all recruiting for hourly, skilled & exempt

Planned & executed hiring events

Engaged in strategic local marketing

Revamped recruitment process

Provided dedicated on-site resources

Built custom leadership development program
The results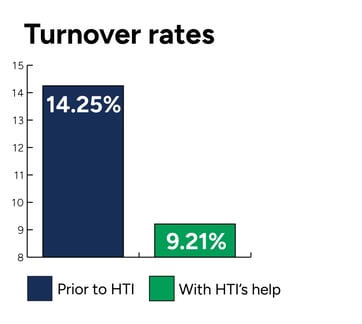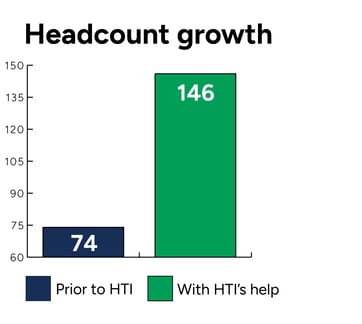 Which part of the recruitment process is the hardest for your team? Is it finding the right talent fit? Creating a supportive onboarding program? Analyzing and utilizing KPI reports? Creating & fostering your community relationships?
Your team already juggles a growing number of tasks and responsibilities. Why not let a strategic partner step in? Our SRPO model handles every facet of recruitment – so you can focus on your bigger picture.
Ready to seamlessly scale your team with top talent?