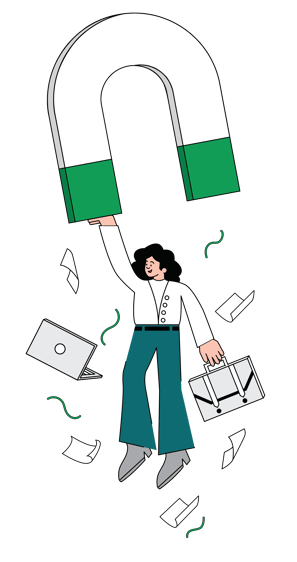 With all the obsession over retention, it's easy to focus all your energy into keeping the people you have. But staying on top of being an "attractive" place to work must remain in your daily punch list. Are you a talent magnet? A slow season is the perfect time to assess your level of attractiveness. Do the work now so you'll be ready to grow your team when things pick back up. We've narrowed down three areas of focus to help you gauge whether you're a contender for top talent.
Brand Awareness
Your brand represents your organization. From your logo to your perception in the community, to how you show up on search engines, your brand is a reflection, rolled up into one – of your values, your goals, and your company culture. When you search your company online, what comes up? From a job seeker's perspective, is there anything that could potentially be a red flag? Job seekers consider things like company rating, social media comments, and your website before even applying for a job, much less accepting one. 71% of candidates do their own research before applying to a company (LinkedIN) and 50% of candidates say they wouldn't work for a company with a bad reputation - even for a pay increase. (Betterteam)
Did you know search engines reward businesses that update their listings regularly? This could be as simple as adding new pictures or updating your company description. If you get a negative review, how timely is your response? Negative reviews are inevitable. Timely, actionable responses are the true mark of a company that's on top of things. Branding is believing. Don't let your brand block out your potential talent pool.
Wage Analysis
I know, you're tired of hearing people talk about pay. But to be in the running for an attractive place to work, you've got to be competitive in this space. If you're not at least in the ballpark of "competitive", consider yourself out of the race altogether. Start by conducting a wage analysis of all the positions in your organization. Then, compare your payrates to the industry standard. How do you stack up?
Maybe you can't offer top industry pay. That's ok! Employees care about more than compensation. Pay is just one piece of the "attraction" puzzle. In fact, over half of workers ranked a strong workplace culture as more important than salary (CNBC). In what other areas can you be attractive to job seekers? Flexibility? Benefits? Performance Incentives? Career Development? Bottom line, know where you stand to figure out where you need to go.

Job Descriptions
You could link this back to Brand Awareness, but the reality is that something as simple as a job description is a beast of its own. Anyone out there take Marketing 101? Advertisers should use clear, concise messaging to instantly engage their viewer. If your job description is vague or has typos and grammatical errors, you've lost your potential candidate. Or maybe you're attracting the wrong candidate. Be clear about what you're looking for.
A job description should also paint a brief picture of your organization. Your company's life story should live on your website, not in your job descriptions. Tell readers who you are, what you do and how their job contributes to the big picture, succinctly. This is an opportunity to sell the company just as much as it is to sell the job. For example, a job description that reads "need hard worker willing to take risks and help business grow" is much less enticing than say, "Seeking energetic, team-player to join a creative team dedicated to driving growth and innovation in the workplace." Additionally, you should share a high-level look at the benefits and distinguishing perks that you offer. Newsflash, a distinguishing perk is NOT paid holidays.
Looming question…Why your company over all the others?

Remember, you're trying to attract PEOPLE.
Don't forget to be human! Understand your audience and cater to what they're looking for. You don't want to portray you and your business as unprofessional, but you also don't want to sound so pretentious that you're unapproachable. Find a balance that makes sense for your business. 75% of candidates respond positively to job descriptions that use generic language, as opposed to more casual or formal tones (LI article source here).
Attracting the right talent is a critical step in building the workforce you need to grow your business. There's a lot to get wrong. As an HR partner, HTI specializes in working with employers to attract and retain top talent. We can help you look into and understand your current state to identify and close potential gaps in your labor strategy.
You're one step closer to becoming a talent magnet. Let's get started!